Important Note:
This Razer Gold Pin Can't be used to reload into Rixty USA, Razer Gold USA, Razer Gold Malaysia, Razer Gold Singapore, Razer Gold Philippines, Razer Gold Australia, Razer Gold Thailand and Razer Gold Indonesia or any other specific county's Razer Gold accounts and any of the Razer Gold 12 localized portals.


【About Razer Gold Pin (USD)】
Razer Gold is the unified virtual credits for gamers worldwide. Use Razer Gold to buy over 2,500 games and entertainment content to buy games and in-game items. Get more bang for your buck with exclusive game deals and get rewarded with Razer Silver, the loyalty rewards program for gamers.
【How will I receive my Razer Gold Pin (USD)?】
Once you place your order, you will receive your pin once your purchase is approved. You can find the Razer Gold Pin on your order list. If you have any problems, you can contact the customer service.
【How to use direct top-up with Razer Gold PIN (USD)?】
1、You can top up by using Razer Gold PIN if the game supports Razer Pin direct top up as payment method.
2、On the payment page, select Razer Gold PIN (or Direct Top-up).
3、Depending on the game, it may require you to either insert your user id or to log in to your game account or enter your character information.
【How to reload Razer Gold USD Wallet with Razer Gold Pin (USD)?】
1、Access your Razer Gold account at https://gold.razer.com with your Razer ID and password.
2、In the top menu, click GOLD, then click "Reload" and choose Razer Gold PIN.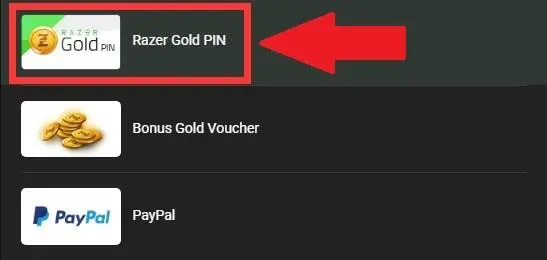 3、Enter your Razer Gold Serial Number and PIN code.

4、Passed the reCAPTCHA Validation.

5、You have successfully reload your Razer Gold wallet with Razer Gold PIN. The receipt can be viewed at https://gold.razer.com/account-summary.